Testujemy nowości Avon
2018-07-16
---
Lato za oknem trwa w najlepsze. Bez względu na to czy jesteś przed czy w trakcie urlopu – zobacz, czego nie może zabraknąć w Twojej kosmetyczce.
Autor: uroda.com
Źródło: Wioleta Derkowska
Firma Avon idealnie wpisała się w najnowsze trendy, w których królują metaliczne odcienie, nietuzinkowe wykończenia oraz mnóstwo błysku. Zobacz, co tym razem Avon przygotował dla Ciebie.

Nowe lakiery od Avon
Od chwili wejścia i upowszechnienia manicure hybrydowego pojawiają się coraz to nowe trendy w zdobnictwie paznokci. Coraz to powstają nowe odcienie, modne są różnorodne struktury.
Postaw na metalik: Avon wypuścił na rynek serię lakierów żelowych w metalicznych odcieniach. Znajdziesz tutaj kilka odcieni, które zachwycą nietuzinkowym wyglądem.
Efekt syrenki: To Stosowany w manicure hybrydowym, trafił również do Avon. Lakiery dają spektakularny efekt, mienią się rożnymi odcieniami w zależności od kąta padania światła.
Mnóstwo brokatu: Piaskowy efekt również jest w modzie. Do lakierów z Avonu dołączyła również kolekcja oferująca również strukturę piasku.
Opinia redakcji: Szeroka paleta barw i struktur Avon sprawia, że trudno zdecydować się na jeden kolor. Najchętniej kupowałybyśmy coraz to nowe. Ale uwaga! To strasznie uzależnia! Lakiery są naprawdę trwałe. W połączeniu z top coat utrzymują się na dłoniach nawet przez ok. 14 dni! Te o strukturze piasku trudniej jest zmyć. Zawierają dużo brokatu. Wystarczy jednak nasączyć wacik zmywaczem i chwilę dłużej przytrzymać go na płytce paznokcia.

Cienie do powiek Avon Mark Color Crush
W ofercie dostępnych jest mnóstwo paletek o różnych połączeniach kolorystycznych, różnorodnych odcieniach. Teraz Avon postawił na zdecydowane, odważne odcienie. To istna gratka dla osób, które lubią eksperymentować z kolorami.
Opinia redakcji: Paletki (w zależności od rodzaju) sprawdzą się zarówno na dzień do pracy, na uczelnię, jak i na wieczorne wyjścia, imprezy. Szalona wersja z neonowymi kolorami będzie idealnym dopełnieniem wersji podstawowych. Za jej pomocą można stworzyć nietuzinkowe makijaże, które świetnie sprawdza się podczas letniej, szalonej zabawy.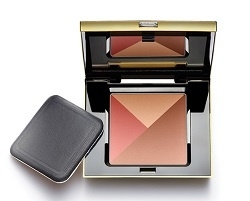 Avon Luxe brązer, rozświetlacz i róż
W tym eleganckim pudełeczku znajdziesz trzy kosmetyki, które pięknie podkreślą Twój makijaż. Rozświetlaczem rozpromienisz swoją cerę, dodając jej naturalnego blasku. Razem z delikatnym różem pozwolą Ci wymodelować rysy twarzy, nadając skórze zdrowy wygląd. Brązerem dodasz jej delikatny odcień opalenizny. Jeśli zmieszasz trzy kolory, uzyskasz efekt blasku skóry muśniętej słońcem.
Opinia redakcji: Zestaw idealny na letnie wyjazdy. W eleganckim pudełeczku znajdziesz wszystko to, co potrzebne do zrobienia naturalnego makijażu. Dzięki temu zestawowi uzyskasz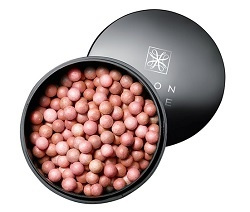 efekt delikatnie opalonej skóry, świeżej, promiennej cery. Produkty są bardzo wydajne.

Perełki rozświetlające
Perełki subtelnie podkreślą Twoje rysy i uwydatnią kości policzkowe. Dodadzą również skórze delikatnego blasku, a rozpromieniona cera będzie wyglądała zdrowiej i piękniej.
Opinia redakcji: To już kultowy kosmetyk Avonu. Sprawdza się w każdej sytuacji. Niezastąpiony przy "wielkich wyjściach", ale również na co dzień. Kosmetyk można stopniować, dzięki temu otrzymasz idealny, pożądany efekt w zależności od potrzeb.