Zapachy lata i jesieni
2017-09-26
---
Za pasem jesień, ale przebija się jeszcze lato. Nieśmiało czuć jeszcze jego zapach, a pojawiające się słoneczko przypomina o jego obecności.
Autor: uroda.com
Źródło: informacja prasowa
W jaki sposób w jednym flakonie zamknąć lato i jesień? Wydaje się, że będzie to trudne. Jednak firma Allverne stworzyła zapachy, które pozwolą w jednej chwili przywołać owocowe lato albo też otulić się ciepłym zapachem podczas jesiennych wieczorów. 
CHERRY BLOSSOM & MUSK



Sekret tego owocowo-kwiatowego zapachu to świeżość i wyrazistość kwiatu wiśni oraz głębia upojnego piżma. To niezwykle szykowny zapach stworzony z myślą o dynamicznych i nowoczesnych kobietach. Nutę głowy tworzą soczyste akordy mandarynki i truskawki w towarzystwie apetycznej gruszki. Serce zapachu stanowi idealne połączenie róży, jaśminu i kwiatu wiśni, któremu niezwykłej delikatności i kobiecej zmysłowości nadaje piżmo. Ten krystaliczny, wyjątkowy zapach wyśmienicie nadaje się do całodziennego noszenia, dostarczając wspaniałego uczucia wolności i niezależności.


Pojemność: 50 ml
Nuta głowy: mandarynka, gruszka, truskawka
Nuta serca: kwiat wiśni, róża, jaśmin
Nuta bazy: piżmo


Opinia redakcji: Zapach zdecydowanie letni. Przywołuje na myśl słoneczne, ciepłe dni. Idealny zapach, na co dzień. Świetnie sprawdzi się do pracy, do szkoły, na uczelnię. Nie jest duszący ani męczący. Wyraźnie wyczuć w nim można kwiat wiśni. Myślę, że perfum sprawdzi się również w nadchodzącą wiosnę. Zapach bardzo trwały. Jest to woda perfumowana i chociaż jest delikatna, to jednak wyczuwalna na ubraniach cały dzień. Produkt wydajny. Flakonik prosty, klasyczny, ładnie prezentuje się na toaletce.
COFFEE & AMBER
Orientalna woda perfumowana, która cudowanie rozwija się na skórze,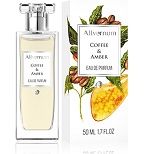 pozostawiając bogaty, uwodzący zapach. To propozycja dla pewnych siebie, silnych i niezależnych kobiet. Świeża, orzeźwiająca woń gruszki i neroli, podkreślona słodkawą pikanterią różowego pieprzu już od pierwszych chwil nadaje zapachowi klarowności. Wyrafinowana mieszanka wanilii, bursztynu i paczuli tworzy podstawę zapachu, podkreślając kobiecą zmysłowość. Całość opleciona została aromatycznymi akordami kawy i słodkiego, upojnego jaśminu. COFFEE & AMBER to uwodzicielski, niezwykle trwały zapach, polecany na specjalne, wieczorowe wyjście.
Pojemność: 50 ml


Nuta głowy: gruszka, różowy pieprz, neroli
Nuta serca: kawa, jaśmin
Nuta bazy: bursztyn, paczula, wanilia


Opinia redakcji: Podczas testowania, pierwsze, co skojarzyło mi się z tym zapachem to… odpowiednik Yves Saint Laurent Black Opium. Faktycznie zapach jest ciepły, otulający. To z pewnością zasługa kawy i wanilii. Przebija tutaj słodycz gruszki. Tak właśnie pachnie jesień. Zapach idealny na jesienne słoty. W takie dni można otulić się zapachem od Allverne i spędzić je pod kocem z książką i kubkiem ciepłego kakao w dłoni.