Powracający problem z łupieżem?
2020-12-02
---
Pozbądź się go z marką RADICAL®!
Autor: uroda.com
Źródło: informacja prasowa


Jesień i zima to pora, kiedy najczęściej wzmaga się problem łupieżu. Nasza skóra broni się przed gwałtownym obniżeniem temperatury, dlatego też wydziela większą ilość ochronnego sebum, czyli łoju. To główny czynnik prowadzący do szybszego przetłuszczania się skóry głowy. Tworzy się przy tym doskonałe podłoże do rozwoju drobnoustrojów, które dodatkowo wpływają na zwiększenie poziomu łuszczenia komórek naskórka. Stopień jego regeneracji zostaje zachwiany. Ten narastający problem to niezwykle uciążliwa dolegliwość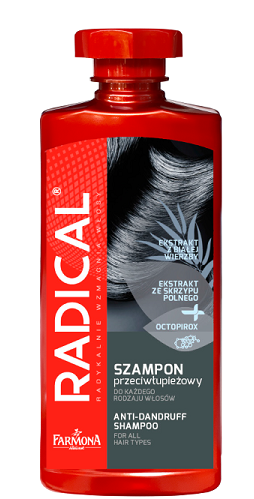 prowadząca do złego samopoczucia i często powodująca dyskomfort psychiczny. Dlatego niezbędne jest stosowanie skutecznych kosmetyków. Pozbądź się łupieżu już teraz. Wsparciem w pokonaniu tego uciążliwego problemu będzie specjalistyczny szampon przeciwłupieżowy marki RADICAL®. Jego potrójna siła działania to prawdziwy przełom w walce z łupieżem.
RADICAL® szampon przeciwłupieżowy do każdego rodzaju włosów
Szampon przeciwłupieżowy do włosów Radical to piękne, mocne i zdrowe włosy, świeże i pełne blasku, bez oznak łupieżu. Jego potrójna siła działania wyraźnie wzmacnia włosy, likwiduje łupież i zmniejsza skłonność do jego powstawania. Swoje spektakularne działanie zawdzięcza bogatej formule opartej na wyjątkowo skutecznych i skoncentrowanych składnikach. Octiprox® hamuje i ogranicza rozwój drobnoustrojów wywołujących łupież, skutecznie eliminując jego objawy. Ekstrakt ze skrzypu polnego i białej wierzby wyraźnie wzmacnia i odżywia włosy, poprawiając ich kondycję i wygląd. Z kolei prebiotyk wspomaga rozwój korzystnej flory bakteryjnej, łagodzi podrażnienia i swędzenie skóry głowy. Szampon redukuje łupież i łagodzi uczucie swędzenia już od pierwszego mycia, a regularne stosowanie zapobiega jego nawrotom. Poczuj się komfortowo!
RADICAL® szampon przeciwłupieżowy: 13 zł/ 400 ml