Letnie nowości od MakeUp Revolution
2017-07-26
---
Lato w pełni. Czas na kosmetyczne nowości od MUR, które pozwolą Ci na wyczarowanie idealnego looku na każdą okazję. Bez względu na to czy wybierasz się na romantyczną randkę, spotkanie z przyjaciółmi, zakupy z przyjaciółką czy całonocna imprezę – musisz wyglądać wyjątkowo. Nowości kosmetyczne pozwolą Ci zaskoczyć w każdej sytuacji.
Autor: Wioleta Derkowska
Źródło: Uroda.com
Latem często nie chcemy obciążać naszej cery. Dlatego decydujemy się na delikatny makijaż. Jednocześnie chcemy, aby makijaż zakrywał nasze niedoskonałości, wyrównywał koloryt cery itp. Puder nie tylko idealnie matuje, ale również ukrywa zaczerwieniania.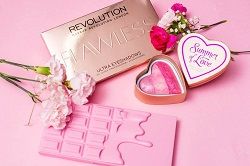 Opinia redakcji: Zaletą tego produktu jest to, że zakrywa niedoskonałości, ale jednocześnie jest lekki. Opakowanie naprawdę spore. Tym bardziej, że produkt jest wydajny. Wystarczy go niewielka ilość, aby wyczarować makijaż. Oznacza to, że takie opakowanie wystarczy na naprawdę sporo czasu. 


Czas na brwi! Pomoże Ci zestaw HD Pro brows, w którym znajdziesz właściwie wszystko, co niezbędne, aby utrzymać Twoje brwi w ładzie. W skład zestawu wchodzi paletka z dwoma cieniami, rozświetlaczem, balsamem do strobingu, woskiem korygującym oraz woskiem, który zagęści brwi. Ponadto dołączone są dwa pędzle oraz korektor i baza. 


Nie ma idealnego makijażu bez odpowiedniego konturowania. W tym przypadku sprawdzą się palety do konturowania HD PRO Correct and Perfect. Pudry najlepiej nakładać silikonowymi pędzlami – Silicone Conture. Są niezwykle wygodne, a jednocześnie łatwe w utrzymaniu w czystości. Nie zapomnij o rozświetlaczach. Dzięki temu nadasz cerze oryginalnego, promiennego wyglądu. W palecie Strobe Lighting znajdziesz rozświetlacze w różnych kolorach. Idealne dla każdego rodzaju cery. Eleganckie i solidne pudełeczko sprawi, że będziesz zawsze chciała je mieć przy sobie. Bez problemu zmieści się w każdej torebce, a przy tym uroczo wygląda. 


Makijaż oka w różnych kolorach


Lato to czas, aby poszaleć z kolorami. Możesz dowolnie eksperymentować. Zdecydować się
zwariowany makijaż oka albo zaakcentować je w nietypowy sposób, np. wykonując kolorowym cieniem kreskę. Podkreślisz spojrzenie, wydobędziesz kolor tęczówki i… zaskoczysz nietypowym rozwiązaniem. Taki makijaż będzie dobry na imprezę czy wypad z przyjaciółmi. Do pracy warto postawić na coś bardziej stonowanego. Wówczas wybierz jedną z paletek PRO HD Aplified 35 Palette. Znajdziesz ją w kilku kompozycjach kolorystycznych. Zarówno w matach, jak i cieniach perłowych albo mieszanych. Taka paletką wyczarujesz makijaż wieczorowy i dzienny. 


Opinia redakcji: Nowe paletki od Make Up Revolution to dla nas prawdziwe zaskoczenie. Cienie są naprawdę spore, więc ich zużycie jest niemal niemożliwe. Z tego względu paletka też jest dość duża. W końcu znajduje się tam aż 35 cieni. Opakowanie jest wykonane z solidnego plastiku, więc nie obawiamy się zabierać ich w podróż. Paletka posiada ogromne, dobrej jakości lusterko. Makijaż można wykonać właściwie wszędzie. Każdy wybierze dla siebie idealny zestaw. Znajdują się tutaj cienie neutralne w odcieniach zarówno ciepłych jak i chłodnych, perłowe, brokatowe. Nie sposób wybrać najładniejszej. Każda z nich urzeka idealnie dobranym zestawem kolorystycznym. Jeśli nie chcesz brać dużej paletki, a zależy Ci na cieniach do powiek – postaw na wersję Epic Day Pallete albo Epic Night Pallete. Paletki są mniejsze, zawierają 8 cienie plus dodatkowo pudry do konturowania i rozświetlania. Dla osób, które lubią mieć wszystko w jednym idealnym rozwiązaniem będzie paletka Eyes and Contour Pallete. Znajdziesz tam aż 108 różnorodnych cieni w różnych kolorach i rodzajach, ale również rozświetlacze, bronzery i puder bananowy. Wszystkie cienie w każdej w paletek są dobrze napigmentowane. Niektóre z nich mogą się lekko osypywać, ale nie jest to zbyt wielki problem. Wyraziste kolory rekompensują wszystko.