Letnia kolekcja We are Knitters
2017-07-27
---
We Are Knitters łączy w sobie cechy marki modowej i marki DIY. Zestawy We Are Knitters dają możliwość stworzenia stylizacji, obok których nikt nie przejdzie obojętnie. Większość kolekcji powstaje w wyniku współpracy z artystami, fotografami, blogerami czy największymi fanami dziergania. Doskonałym tego przykładem jest jedna z letnich kolekcji, inspirowana stylem Rosy Copado.
Autor: Uroda.com
Źródło: informacja prasowa


Więcej o kolekcjach We Are Knitters: 


•

Kolekcja ROSA COPADO FOR WE ARE KNITTERS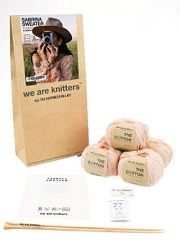 Rosa Copado, hiszpańska fotografka modowa, współpracująca m.in. z Marie Claire, Telva
lub Icon zinterpretowała na swój sposób modele z letniej kolekcji We Are Knitters. Wybrane przez fotografkę elementy garderoby są odzwierciedleniem jej stylu – folkowej ekstrawagancji połączonej z artystyczną swobodą. To idealna propozycja dla wszystkich indywidualistów, którzy kochają ubrania z duszą!
Rosa Copado postanowiła przełamać schematy i zostać nie tylko autorką zdjęć kolekcji, ale także jej ambasadorką i jedyną modelką!  


Rosa Copado o kolekcji ROSA COPADO FOR WE ARE KNITTERS

Praca nad projektem była zabawna i eksperymentalna. Razem z We Are Knitters chcieliśmy przełamać schemat typowych sesji reklamowych i stworzyć kampanię, która zaprezentuje nie tylko modę, ale także styl życia i stanie się inspiracją dla wielu innych kobiet, a nawet projektantów. Nigdy wcześniej nie pracowałam w charakterze modelki i wydało mi się to interesującym wyzwaniem artystycznym. Na początku miałam tylko pozować w stylizacjach WAK, ale doszłam do wniosku, że zrobię to na swój własny sposób. Postanowiłam, że wykorzystam "grę z lustrem", aby być jednocześnie fotografem i modelką. Przez tydzień nosiłam wybrane modele ubrań i zawsze miałam przy sobie jakieś lustro. Zdjęcia pokazują  100% mnie – w domu w pracy, w podróży. 


•

Kolekcja MORGANE SUMMER
Niektóre z kolekcji We Are Knitters powstają w wyniku współpracy z projektantkami i blogerkami. Ostatnim efektem takiej współpracy jest kolekcja na lato przygotowana przez Morgane Mathieu. Morgane jest francuską projektantką mody, która na co dzień specjalizuje się w projektowaniu torebek.
Kolekcja inspirowana stylem  Morgane jest pełna motywów rytmicznych, kolorów i radości. Modele są doskonałe do noszenia w letnie noce lub w czasie festiwali.
•

Kolekcja na szydełko SUMMER CROCHET!
Inspiracją do powstania tej kolekcji stały się amerykańskie festiwale muzyczne z lat 70-tych! Kolekcja Summer Crochet przywołuje wolność, brawurę i ducha tamtych czasów dodając świeżości i niepowtarzalnego charakteru typowym modelom robionym na szydełku. Tematem przewodnim stały się, tak kojarzone z latem, frędzle i ażur.