IsaDora radzi: latem nie zapomnij o kolorze na oku!
2018-07-16
---
Lato w pełni, a Ty zastanawiasz się czym możesz wyróżnić się w tłumie festiwalowiczek, plażowiczek i imprezowiczek na głośnych koncertach, rajskich plażach i w luksusowych kurortach? Nasza propozycja: skup się na oku i nadaj mu koloru! IsaDora przedstawia kolejne elementy kolekcji Palm Beach: kolorowe eyelinery oraz niebieski tusz do rzęs Grand Volume Lash Styler.
Autor: uroda.com
Źródło: informacja prasowa


Latem można zaszaleć. Odłożyć na bok czarne kredki, czerwone pomadki i beżowe cienie do powiek. Można eksperymentować i malować oczy we wszystkich kolorach tęczy – na różowo, żółto lub niebiesko. Błyszczący cień do powiek i niebieski tusz do rzęs to połączenie ponadczasowe na festiwal w pełnym słońcu, a kolorowy eyeliner sprawi, że oczy będą wyróżniać się na tropikalnych imprezach.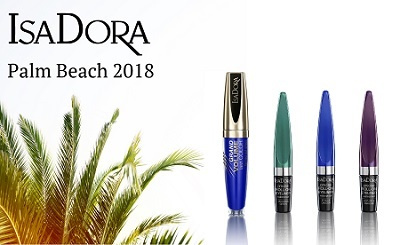 IsaDora przygotowała się na te wszystkie okoliczności i w swojej letniej kolekcji Palm Beach proponuje Precise Roll-on Eyeliner – produkt, którym dzięki obrotowej końcówce błyskawicznie narysujesz cienką lub grubą kreskę. Wyjątkowo mocny pigment w kolorach – Purple Paradise, Blue Lagoon oraz Ocean Green – pozwoli cieszyć się oryginalnym makijażem nawet do 14h! W kolekcji znalazła się również kolorowa wersja tuszu do rzęs Grand Volume Lash Styler – o nazwie Aquatic. Tusz ekstremalnie rozdziela oraz nadaje objętości, a dodatkowo posiada elastyczną formułę odporną na zmiany pogody.
Z nową kolekcją Palm Beach od IsaDora jesteśmy w pełni gotowe na letnie wyzwania!
Precise Roll-on Eyeliner w kolorach Purple Paradise, Blue Lagoon oraz Ocean Green, cena sugerowana: 60 PLN
Grand Volume Lash Styler w kolorze Aquatic, cena sugerowana: 89 PLN

O marce:
IsaDora to szwedzka marka kosmetyków do makijażu, która powstała w 1983 roku w Malmo. Marka stworzona została z myślą o kobietach w różnym wieku, które cenią wysoką jakość kosmetyków oraz chcą podążać za trendami. Założycielami marki są Invima AB, Ingvar Vigdtrand i Ingrid Berndtsson. Stworzyli oni produkty idealne, nieperfumowane, w których produkcji są wykorzystywane surowce najwyższej jakości, dzięki czemu nie ma potrzeby stosowania substancji zapachowych. Oferują szeroki wachlarz kosmetyków, pełnych kolorów i elegancji, który zapakowany został w innowacyjne, minimalistyczne opakowania.
Każdego roku IsaDora pozwala kobietom podkreślić swoje piękno, sprawiając im niesamowitą radość. Oferta obejmuje ponad 50 kosmetyków do makijażu, a każdego roku lansowanych jest od 4 do 6 nowych kolekcji, inspirowanych najnowszymi trendami w świecie mody i makijażu.
Marka IsaDora - obecna w wielu krajach - jest uwielbiana przez kobiety w różnym wieku na całym świecie. Jej produkty można znaleźć w Rosji, Stanach Zjednoczonych, Niemczech, Hiszpanii, Austrii, Norwegii, Finlandii i Dubaju. W Polsce marka jest obecna od 20 lat.
Kosmetyki marki IsaDora można kupić w sklepie online.