Chcesz jeść lekko i być FIT? Zaprzyjaźnij się z kefirem!
2017-07-19
---
O niezwykłych właściwościach kefiru napisano już chyba wszystko. Uznawany jest on za idealny napój na upalne dni oraz najlepszy dodatek do koktajli. Jest niskokaloryczny, lekki i co najważniejsze posiada mnóstwo składników odżywczych i probiotyków, korzystnych dla zdrowia jelit i lepszego trawienia. Ale czy wiesz, że możesz nim zastąpić inne, znacznie bardziej kaloryczne produkty? Podpowiadamy, w jakich daniach kefir sprawdzi się najlepiej.
Autor: Uroda.com
Źródło: informacja prasowa
Kefir – lekkie źródło zdrowia i urody 
Kefir gości w naszych domach od pokoleń. Ten mleczny napój otrzymywany jest poprzez dodanie do mleka specjalnych granulek, składających się z kultur drożdży i bakterii kwasu mlekowego. Dzięki granulkom mleko fermentuje i tworzy napój o lekko kwaśnym i delikatnym smaku. Kefir jest jednym najmniej kalorycznych produktów mlecznych – 100 g kefiru to tylko ok. 50-60 kalorii i prawie 4 gramy białka! Ilość tłuszczu w kefirze wacha się od 0% do 7% w zależności od zastosowanego mleka. Co ciekawe 200 g kefiru pokrywa 20% zalecanego dziennego zapotrzebowania na wapń i fosfor. Ponadto ten sfermentowany napój ma niezwykłe właściwości antybakteryjne. Znajdziemy w nim prawie 30 rodzajów mikroorganizmów, które są źródłami probiotyków. Tym samym wspiera organizm w walce z licznymi infekcjami i bakteriami, w tym z salmonellą czy E. coli. 
Nie tolerujesz laktozy? Wybierz kefir, który jej nie zawiera!
Nie tolerujesz laktozy i masz obawy przed spożyciem jakiegokolwiek produktu mlecznego? Nie musisz rezygnować z kefiru! Teraz możesz go nabyć także w wersji bez laktozy! Od niedawna w sklepowych lodówkach można znaleźć Kefir naturalny bez laktozy od Bakomy. Jest on zdrowym, mlecznym napojem orzeźwiającym. Mleko w nim zawarte zostało pozbawione uczulającego składnika. W Kefirze bez laktozy znajdują się także żywe kultury bakterii L.acidophilus i Bifidobacterium. Wspierają one pracę naszych jelit i wpływają pozytywnie na ich mikroflorę. 


Przepisy na letnie potrawy z wykorzystaniem kefiru
Dzięki swoim niezwykłym właściwością i niskiej kaloryczności kefir jest produktem przyjaznym dla naszego zdrowia i sylwetki! Jest on polecany szczególnie osobom odchudzającym się oraz tym, które chcą się zdrowo i wartościowo odżywiać! Z powodzeniem możemy go używać jako zastępnik dla śmietany i zdrową bazę do sosów!  Szczególnie sprawdzi się on w potrawach o lekko kwaskowatym smaku. Możemy go wykorzystać zarówno do dań głównych, jak i do deserów. 


Kefirowe racuchy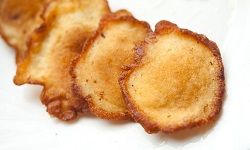 (Przepis na ok. 10 racuchów, czas przygotowania ok. 15 minut) 

Składniki:
•

400 g kefiru naturalnego bez laktozy od Bakomy 
•

1 łyżka oleju kokosowego
•

2 szklanki mąki jaglanej lub kokosowej
•

szczypta mielonego imbiru (opcjonalnie)
•

½ łyżeczki sody oczyszczonej
Przygotowanie:
Jabłka obieramy, usuwamy środek i kroimy w plasterki. Kefir mieszamy wraz z jajkiem, miodem, olejem,  solą i skórką startą z cytryny. Następnie dodajemy mąkę przesianą wraz z imbirem i sodą. Do powstałej masy dodajemy pokrojone jabłka. Racuchy smażymy na patelni delikatnie posmarowanej tłuszczem kokosowym (najlepiej nasączyć ręcznik papierowy olejem i przecierać dno patelni co jakiś czas) po 3-4 minut z każdej strony na średnim ogniu.


Orzeźwiający  chłodnik ogórkowy z rzodkiewką 
(Przepis na ok. 3-4 porcje, czas przygotowania ok. 15 minut oraz 1 h chłodzenia w lodówce) 
Chłodnik to idealna propozycja na upalne dni. Chłodnik ogórkowy jest niskokaloryczny i łatwy do przyrządzenia. 
Składniki:
•

500 g kefiru naturalnego bez laktozy od Bakomy
•

500g  gęstego Jogurtu naturalnego bez laktozy od Bakomy
Do wysokiego naczynia wlewamy kefir i jogurt naturalny. Rzodkiewkę i ogórka ścieramy na tarce, koperek i szczypiorek cienko siekamy. Następnie mieszamy wszystkie składniki i doprawiamy solą i pieprzem. Gotowy chłodnik schładzamy (m.in. 1 h w lodówce). Polecamy podawać go z gotowanym jajkiem i świeżym koperkiem! Doskonale smakuje także z młodymi ziemniakami, a osoby odchudzające się mogą dodać do niego makaron ryżowy. 


Doskonała propozycja dla wszystkich, którzy uprawiają sport i szukają propozycji na potreningowe doładowanie. 
•

200 ml kefiru naturalnego bez laktozy od Bakomy 
•

1 lub 2 łyżki masła orzechowego (najlepiej bez soli)
•

1 łyżka mielonego siemienia lnianego 
•

Opcjonalnie: szczypta cynamonu
Wszystkie składniki blendujemy na gładką masę. Koktajl warto wcześniej schłodzić.