beGLOSSY Happy Colors
2017-07-25
---
Letnie, radosne i pełne koloru! Takie właśnie jest nowe, lipcowe pudełko beGLOSSY! W środku znalazły się kosmetyki, które będą idealnym uzupełnieniem Twojej letniej kosmetyczki. To zestaw, który pokocha zarówno miłośniczka pielęgnacji, jak i fanka zabawy z kolorem! Wszystko to spakowane w kolorowe pudełko beGLOSSY, którego nie może zabraknąć w Twoim domu!
Autor: Uroda.com
Źródło: informacja prasowa


W lipcowej edycji beGLOSSY Happy Colors znalazło się 6 kosmetyków, w tym aż 5 pełnowymiarowych!
NEONAIL – Lakier hybrydowy z kolekcji Delicious by Joanna Krupa
Po raz pierwszy w subskrypcyjnym pudełku kosmetycznym w Polsce pojawił się lakier hybrydowy marki NEONAIL. Testerki beGLOSSY otrzymały możliwość przetestowania lakierów z najnowszej kolekcji Delicious by Joanna Krupa, która składa się z 6 przepięknych, pastelowych kolorów. Trwałość manicure wykonanego lakierami hybrydowymi NEONAIL? Do 21 dni!
GLISS KUR –Ekspresowa odżywka regeneracyjna do włosów Fiber Therapy
Odżywka do włosów przeciążonych koloryzacją lub zabiegami stylizacyjnymi to produkt, którego nie może zabraknąć w letniej kosmetyczce. Formuła z OMEGAPLEX® regeneruje zerwane wiązania wewnątrz włókien włosa. Długotrwale chroni przed przyszłymi zniszczeniami oraz  ułatwia  rozczesywanie. 
SYLVECO – Łagodzący krem pod oczy
Hypoalergiczny, łagodzący krem przeznaczony jest do codziennej pielęgnacji wrażliwej i delikatnej skóry wokół oczu. W jego składzie znalazły się ekstrakty z kory brzozy, chabru, bławatka oraz świetlika, które działają łagodząco, kojąco i zmniejszają obrzęki. Dzięki specjalnie dobranej, bezzapachowej formule, krem poprawia strukturę skóry, przywracając jej właściwy poziom nawilżenia oraz sprężystość. Usuwa objawy zmęczenia i zaczerwienienia, hamuje procesy starzenia się skóry.
NIDIESQUE – Krem barierowy Original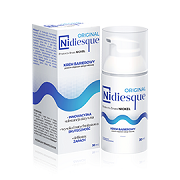 NIDIESQUE to polska marka kosmeceutyków chroniących przed alergią niklową, stworzona przez firmę KF Niccolum. Krem barierowy jest idealny dla skóry wrażliwej i alergicznej. Lekka, nawilżająca konsystencja zawiera łagodną substancję zapachową. Przeznaczony jest do codziennego stosowania, jako krem do twarzy i ciała oraz baza pod makijaż. Nie posiada parabenów oraz był testowany dermatologicznie.


URIAGE – Jedwabisty balsam do ciała Eau Thermale
URIAGE to marka, która słynie z kosmetyków głęboko nawilżających – nasza skóra je kocha! Miniaturowy balsam do ciała o jedwabistej konsystencji i przyjemnym zapachu powinien znaleźć się w każdej letniej kosmetyczce. Jego lekka formuła głęboko odżywia skórę, przywracając jej długotrwały komfort i nawilżenie. Zapewnia aksamitne wykończenie, bez uczucia lepkości na skórze.
EFEKTIMA – Mineral SPA
Doskonały, skondensowany preparat do oczyszczania skóry twarzy, który łączy w sobie krem myjący, peeling oraz maskę. Spodziewanym rezultatem zabiegu jest oczyszczona, wygładzona i ujędrniona skóra twarzy. Ten kosmetyk możesz wrzucić do wakacyjnej kosmetyczki – zajmuje niewiele miejsca, a działa cuda! Nie wybierasz się na urlop? Zorganizuj sobie domowe SPA!
beGLOSSY Happy Colors wciąż dostępne! 
Wartość tych 6 kosmetyków to ponad 174 zł. Zamawiając je w pudełku beGLOSSY Happy Colors możesz je przetestować za jedyne 49 zł! Nie czekaj i dołącz do testerek beGLOSSY.